The VA Historic Preservation Office keeps information about VA's programs to comply with Federal preservation requirements, and also interesting information about VA history.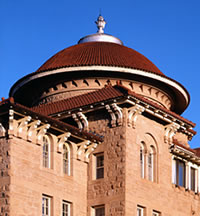 Contact Information
Kathleen Schamel
Historic Preservation Officer
Telephone: 202-632-5529
Fax: 202-632-5833
Postal Address:
Historic Preservation Office (003C2)
Office of Construction & Facilities Management
Department of Veterans Affairs
810 Vermont Avenue, NW
Washington, DC 20420
Electronic mail:  kathleen.schamel2@va.gov 
Technical Information
VA's Historic Properties Virtual Tours and Highlights
Researchers of History and Geneology please note:  This office deals with building preservation issues, not historical or genealogical research.  The Department of Veterans Affairs does not maintain veterans military service or patient residency records.  For Burial Records in VA National Cemeteries only, go to VA Nationwide Gravesite Locator. 
The main repository for Veterans-related records is the National Archives and Records Administration*.  For basic Genealogical information, visit the Genealogists/Family Historians* site.  For Military Service or Veterans Pension Records, visit the Military Record Requests* or Veterans and their Families* sites.  Also, visit National Archives Locations*.  For other information regarding records, see Obtaining Military Records.  We hope this provides you with successful research options.